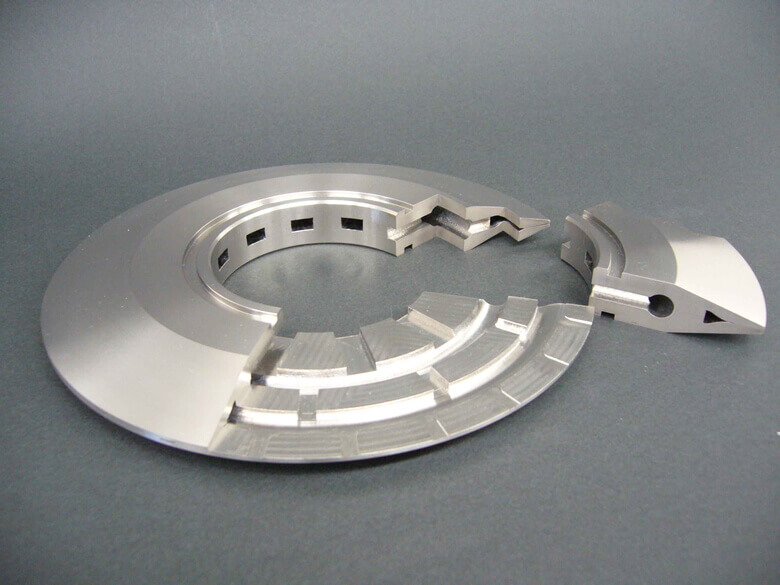 拡散接合概要
拡散接合とは、母材を溶融させることなく加熱・加圧保持し、接合面を横切って接合界面の原子を拡散させ、金属学的に完全な接合部を得る方法である。
(1)の状態のものを加熱、加圧して塑性変形により接触部が生じると同時に酸化皮膜が破壊され(2)のようになる。そのまま温度、圧力を保持することにより接合界面近傍のクリープ変形と原子の拡散によりボイドが収縮し、同時に酸化皮膜の破壊、分解が進む。その結果清浄な金属表面同士が増加し、接合界面の原子配列は、結晶粒界に近づき(3)のようになる。時間の経過とともに接合界面を横切って結晶粒が成長して(4)となる。

拡散接合処理法
真空ホットプレス装置を用いる場合は、軸加圧で二次元的に接合。
HIP装置を用いる場合は、等方加圧であり三次元的に接合可能。
The diffusion bonding process
Diffusion bonding is one bonding method performed by diffusing atoms. Through heating and pressurizing metals, but without melting the base metals, you can produce a perfectly bonded part. When we pressurize and heat material as in the figure below (1) Initial 'point' contacts are produced and at the same time, an oxide film is broken due to plastic deformation. As a result, the materials become like (2). When holding the same temperature and pressure, the voids shrink due to creep deformation and diffusion of atoms. At the same time, the oxide film is broken and decomposes. As a consequence, the clean metal surface is increased and the arrangement of atoms on the bonding surface becomes closed to the grain boundary like (3). As time goes by, grains grow across the bonding surface and finally like (4).

Diffusion bonding treatment method
When we bond materials using a Vacuum Hot Press it is processed in a two dimensional axial pressurization which presses down on the metal surfaces. However, it is possible to bond materials using a three dimensional process with isotropic pressurization when we use HIP.