About MTC
Think beyond the Earth, think the universe through metal
Metal Technology Co. Ltd. is committed to infinite possibilities using metal; we will create a fulfilling future, environmentally friendly, with rich ideas and reliable technology. We provide Cutting edge metal processing technology from design to manufacturing of various structures in all fields.
Industry leading advanced technology
We offer reliable metal parts that can withstand harsh operating environments such as aircraft and power generation turbines. Every day we are working on creating new methods, mechanisms and materials. We are also focused on strong investment and expansion in to the latest machinery and modern facilities.
An integrated production system from "Monozukuri"
(Build-to-order manufacturing)
Based on "the Metal Solution", Metal Technology Co. Ltd. consistent production system comprehensively covers the upstream stage of the production process of searching for and handling the raw materials; to the downstream stage of processing the materials into a finished product. A production system that covers HIP treatment, heat treatment, bonding, additive manufacturing, machining, and analytical analysis consistently offering metal solutions along the way.
Meeting standards in a wide range of fields
In the fields of defense related equipment and aerospace related equipment, where high-precision processing technology is required, we quickly adopted the related specifications and responded to the customers' needs and demands. Furthermore these specifications, once undertaken, are utilized in other products manufactured by the Company and as a result we have received high praise from all sides.
An advanced quality control system
Metal Technology Co. Ltd. develops its own software and management system regularly updating and improving the processes. Quality assurance processes such as document management, process management, and traceability management are the core of the quality assurance system and as such Metal Technology Co. Ltd. Strives to meet these high standards.
Environmental management system
Acquired ISO 14001 certification
MTC fully understands the importance of environmental protection and apply our utmost effort into meeting the certifications in order to implement effectively environmental management in our daily manufacturing activities. As a part of this desire we have obtained accreditation for ISO 14001 and promote activities that protect the environment.
MTC plants have the industry's cutting-edge technology and equipment.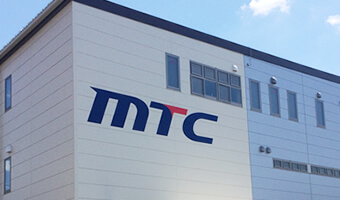 Find out more about Metal Technology Co. Ltd.'s facilities and equipment.
Contact Us
Please proceed from the following button

for inquiries by e-mail .
Document Download
Company information
Technology information (Japanese)
Technology information (English)
HIP unit list
Possible material combinations for brazing
FAA Capability List
AM overview slides