The history of MTC
MTC has grown as a leader in the metal processing industry since its establishment in 1960.
Below is an overview of 50 years of Metal Technology Co. Ltd.'s influential history.
1960-70's
MTC's Beginnings
Establishment and expansion of the heat treatment business
Metal Technology Co. Ltd. (MTC) was founded in 1960 by researchers from the Institute of Physical and Chemical Research (RIKEN). During their tenure at RIKEN, the researchers built a 'Pit furnace' with refractory bricks as a furnace wall and constructed the piping works themselves in Itabashi, Tokyo. Their goal was to apply their research in a practical fashion in industry.
MTC began operations by working with ferrite magnetic annealing and heat treatment of aluminum die castings. The work was conducted under the philosophy of "respecting and maintaining harmony". Within two years, operations had outgrown the original facility and Gunma Plant was established in Tama, Gunma Prefecture.
Over time, orders were received for brazing of air conditioning parts as well as heat treatment of muffler condenser parts for major electronics manufacturers. This led MTC to become involved in new capabilities such as vacuum furnaces and the active pursuit of improving our technological knowledge and skills.
As the business expanded and orders from the Kansai region in west Japan increased a second facility was established in Shiga Prefecture in 1974. In the 1970's, we made inroads into the defense and aircraft related industry markets. Since obtaining the Boeing Quality Standard Certification (BAC) in 1977, we continue to provide a reliable metal treatment service such as heat treatment for B727 parts.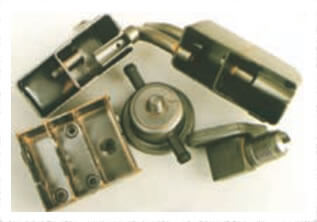 Copper brazing of home appliances (air conditioner) The upper parts (right and left) are parts from a suction muffler (compressor)
New manufacturing technique 'HIP'
In the 1980s, the business continued to expand rapidly and we increased the number of facilities to 5 adding plants in Kanagawa, a coastal prefecture just south of Tokyo near Yokohama, Ibaraki a Japanese prefecture bordering the Pacific Ocean northeast of Tokyo, and Himeji a famous city close to Kobe port.
At the same time, Hot Isostatic Pressing (HIP) began to appear as a new heat treatment technique.
'HIP' is a process that enables diffusion bonding, sintering and the removal of internal defects. This is achieved by combining high temperature with high pressure in an inert environment. Industry required a high level of reliability which could not be obtained using older heat treatment and bonding technologies. In response, MTC's installation of HIP equipment quickly led MTC to become one of the world's most innovative and effective users of HIP treatment. We introduced our first HIP unit, which was cutting edge technology in Japan at the time, to our Shiga Plant in 1984.
MTC's HIP technology has been applied to a variety of products including internal defect removal for precision castings in gas turbine parts and the sintering of high speed steel powder. MTC also established a "HIP development center" in 1989 to improve our "HIP technique" and improved construction of our capsuling technology. MTC obtained a patent for the manufacturing technology for metal rolling of composite rolls.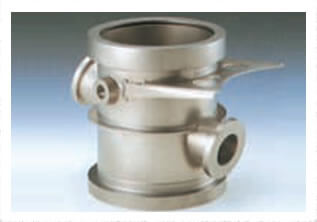 Brazing of an aircraft part, made from Ti-6Al-4V (Body valve for F15J)
1990s
Change and expansion
The challenges for 'Monozukuri (manufacturing)' business
We adopted the business philosophy of, "Mastering the latest technology quickly and offering this to satisfy our customers' needs." As demand for HIP processing continued to grow, we invested aggressively in new HIP equipment. This includes the 'Mega-HIP' to Gunma Factory to handle the growing demands for large parts to meet MTC's customer's needs.
In response to global economic challenges, MTC introduced a variety of machining centers and Hot Press units to Himeji plant. MTC also installed Super Plastic Forming (SPF) equipment in the Shiga plant. Since that time we entered what we call in Japanese, the "Monozukuri" (manufacturing) business. This allowed MTC to offer services both before and after the heat process, differentiating MTC from other businesses at that time which only handled specific individual processes.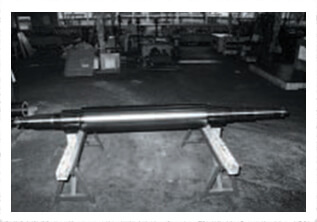 A cemented carbide material powder metallurgy (heat resistance and anticorrosion cemented carbide roll)
2000s
Rebirth and innovation
An integrated manufacturing system from start to finish
MTC has continued to lead the way in the development of new technologies since the beginning of the 2000s. MTC introduced Metal 3D printers at our Ibaraki plant in 2001 which began our 3D printing or Additive Manufacturing journey which is currently a rapidly expanding industry. MTC also founded a 'Technical Center' at Kanagawa plant understanding that participation in the design, development of optimal materials and processing methods, and analysis stages are all vital to assisting MTC's customers in the leading the way in industry. Maintaining this bold strategy, we introduced the world's largest HIP equipment called 'Giga-HIP' in 2010. MTC made significant investment into Himeji plant to respond to the world's ever increasing demand for HIP technology on a large scale.
The introduction of the Engineering Division was a natural progression for MTC as it offered a way for MTC to assist our customers with design, analysis, manufacturing and assembly; all of which are geared to meeting the customers' needs as well as enabling MTC to contribute to scientific advancements. By providing devices vital to particle accelerator research, MTC has contributed to scientific research and breakthroughs.
In step with the demands of the global economy, MTC responded to an increase in HIP processing requests from China by establishing a local corporation called 'Kinzoku Giken (Suzhou) Co. Ltd.' in Suzhou, China as our first overseas facility. The Suzhou plant commenced operations in 2013 and has seen rapid growth.
In 2011, in order to respond to future aircraft demand, we began operations in MTC's Chiba Plant in preparation to enter the MRO business. In 2012, we acquired the JT-8D repair business as a DSP for Pratt & Whitney in Narita, Japan. MTC obtained FAA, EASA, and JCAB accreditation in order to meet the industry standards and make strides into the market.
MTC operates a reliable manufacturing system from design to finish. We continue to provide a variety of complex and innovative solutions under the vision of 'the metal solution'.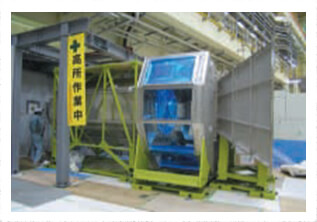 Designing, simulation, manufacturing, and construction of Vacuum scattering tank
Chronology history
1960
Metal Technology Co. Ltd. Started business in Itabashi-ku, Tokyo. Initial area of expertise was in Heat Treatment.
1962
Gunma Plant was established in Tamamura town, Gunma.
1970
Gunma Plant introduced their first vacuum furnace and began business in the defence (aviation) field.
1972
Shiga Plant was established in Kusatsu city, Shiga.
1974
Shiga Plant moved to Aisho area, Shiga.
1977
Shiga Plant acquired qualification for Boeing specification.
1982
Kanagawa Plant was established in Ebina-shi, Kanagawa.
1984
Our first HIP unit was installed in Shiga Plant.
1987
Ibaraki Plant was established in Mito-shi, Ibaraki.
1989
Himeji Plant was established in Himeji-shi, Hyogo.
1991
Our first Machining center was installed in Himeji Plant.
1993
Mega-HIP, with the largest work zone in Japan was installed in Gunma Plant. Our first hot press equipment was installed in Himeji Plant signaling our entry in to the sintering field.
1999
Our first Super Plastic Forming (SPF) equipment was installed in Shiga Plant and we entered in to the metal forming field.
2001
Our first Selective Laser Sintering (SLS) equipment was installed in Ibaraki Plant signaling the beginnings of our Additive Manufacturing capabilities.
2003
Sansen Seimitsu was integrated into Metal Technology Co. Ltd. with the transfer of business sales rights.
2005
Kazuhiko Hasegawa became the President of Metal Technology Co. Ltd.
2006
The Technical Center was established.
Shiga Plant was accredited with NADCAP in Heat Treatment process.
2010
Giga-HIP, the largest work zone in the world was installed in Himeji Plant.
The Engineering division was established.
Metal Technology Co. Ltd. Suzhou Plant was established in Suzhou, China.
2011
Chiba Plant was established in Yokoshibahikari-machi, Chiba.
2012
Narita Plant, FAA Repair Station, was established in Narita city, Chiba.
Metal Technology Co. Ltd. acquired the JT8D repairing business of Pratt & Whitney as a Designated Service Provider.
2013
The Technical Center (Kanagwa) Installed an Electron Beam Melting unit.
(EBM) Arcam A2X and a Direct Metal Laser Sintering unit (DMLS) EOSINT M280
2015
The Technical Center (Kanagwa) installed a second and large Electron Beam Melting unit (EBM) Arcam Q20.
Himeji Plant were accredited NADCAP in heat treatment process.
2016
Kanagawa plant Metal Additive Manufacturing process was additionally certified to their JIS Q 9100.
Ibaraki Plant Installed Metal Technology Co. Ltd.'s No. 18 HIP unit.
2017
Toki Plant was established in Gifu prefecture.
2019
Kanagawa plant registered as a medical device manufacturer.
2020
Chiba Plant and Narita Plant are integrated into Chiba Plant.
MTC Powder Solutions AB established (Sweden).
2021
Kanagawa Plant was accredited with ISO 13485 certification.
Withdrawal from MRO business and closure of Chiba factory.
MTC plants have the industry's cutting-edge technology and equipment.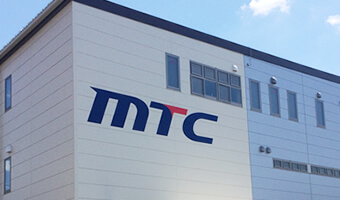 Find out more about Metal Technology Co. Ltd.'s facilities and equipment.
Contact Us
Any request about products, and ask for quotation can be made here. Other questions and requests about the company can also be made here.
Document download
Company information
Technology information (Japanese)
Technology information (English)
HIP unit list
Hot press equipment list
Possible material combinations for brazing
MICROTRON Test Machine MIC1