Forming/Machining
What is Super Plastic Forming (SPF)?
Superplastic forming (SPF) is based on the fact that some alloys can be slowly stretched well beyond their normal limitations at elevated temperatures. The higher temperatures mean the flow stress of the sheet material is much lower than at normal temps. This characteristic allows very deep forming methods to be used. Superplastic alloys can be stretched at higher temperatures by several times of their initial length without breaking; for example 100% and 300% for aluminium and titanium alloys respectively. Superplastic forming can produce complex shapes with stiffening rims and other structural features as well.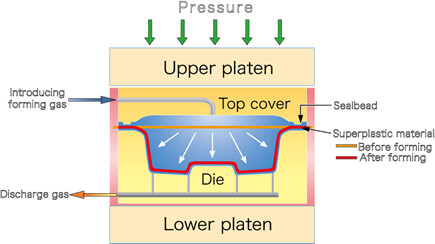 Strengths of Super Plastic Forming (SPF)
01.

It requires only one mold, either a core or a cavity mold.
02.

Capable of manufacturing the design of freely combined curved surface.
03.

Capable of forming complex shapes which are difficult by cold forming processes.
04.

Capable of forming large parts.
05.

Reduction of parts with near net shape forming of complex shapes.
06.

Low environmental impact with Non-Lead die lubes, and low noise.
Strengths of Metal Technology Co. Ltd.
01.

Simulation
Metal Technology Co. Ltd. can perform high temperature tension tests and forming simulation in order to determine and inspect material properties before forming commences which eliminates reduces waste and costs.
02.

Integrated manufacturing system
With our integrated manufacturing system from the initial designing of the mold to manufacturing, Super Plastic Forming, and inspection and analysis Metal Technology Co. Ltd. can control and monitor all conditions and needs.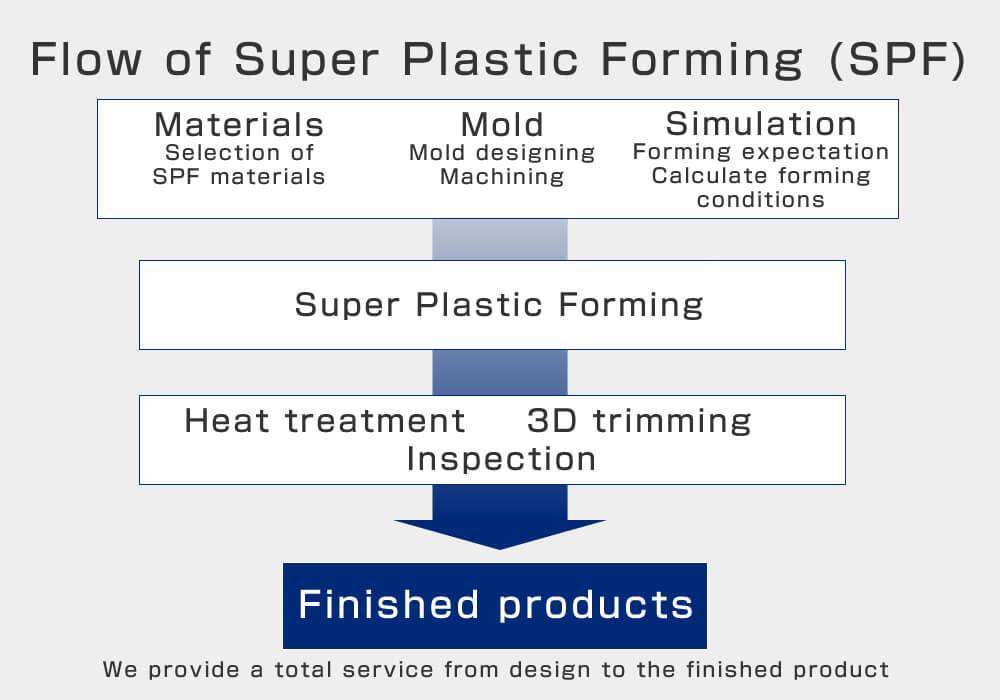 Applications of Super Plastic Forming (SPF)
01.

Automotive Industry related parts
02.

Aerospace industry parts
03.

Building material parts
04.

Hobby and ornament parts
05.

Electrical machinery parts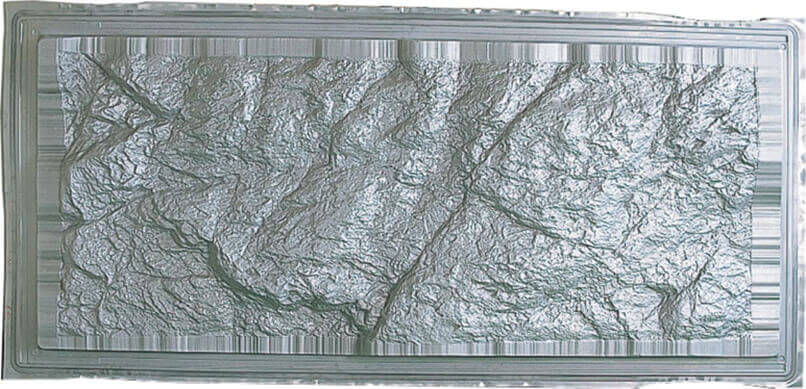 Decorative rock panel
(A5083 Superplastic forming material)
1,100 × 2,350 × 0.8t
Examples of SPF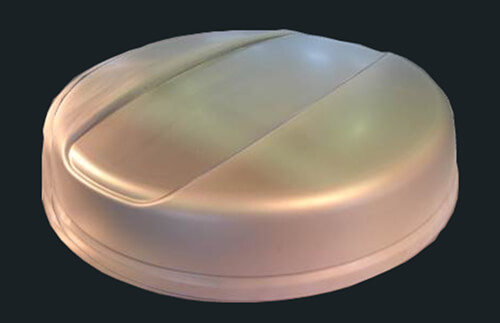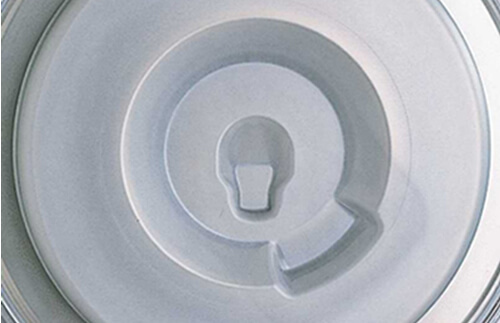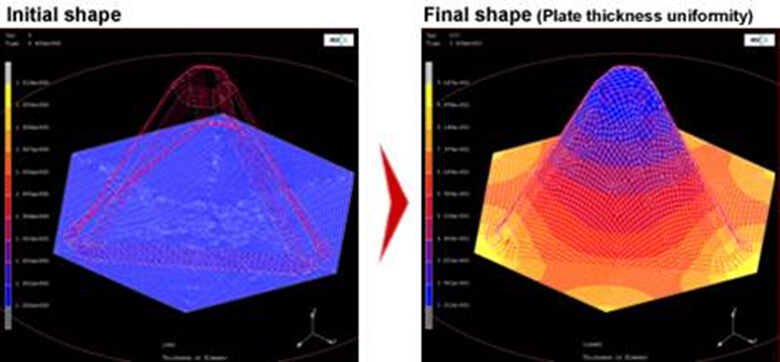 Equipment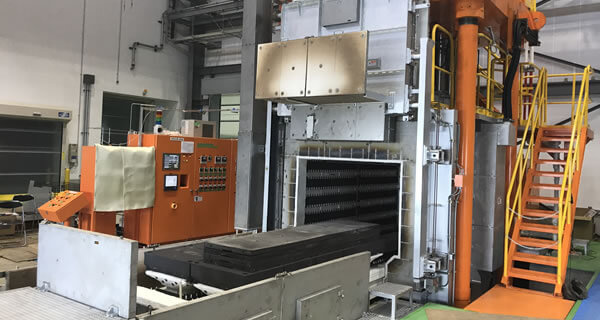 Work size:1400W×2700L×900H
Mold size :1400W×2700L×900H
Maximum payload:Ordinary temperature~700℃…7000kg/700~900℃…5000kg
Temperature range:Ordinary temperature~980℃
Rolling force:常温~700℃…10000kN/700~900℃…6000kN
Forming gas:Argon(purity 99.999%)
Forming gas pressure:0~4.0MPa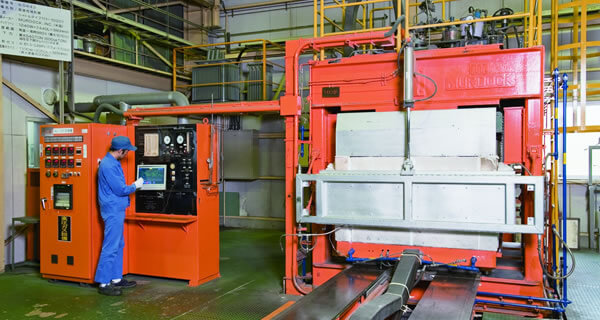 Work size:1200W×2440L×380H
Mold size :1100W×2350L×365H
Maximum payload:4000kg
Temperature range:Ordinary temperature~980℃
Rolling force:ram cylinder maximum 5292kN
Forming gas:Argon (purity 99.9% or 99.999%)
Forming gas pressure:0~3.45MPa
Shiga and Toki Plant both have SPF capabilities and a variety of equipment.
Strength of machining at MTC
01.

We are able to support Oil-less processing.
02.

We have a developed technical understanding and knowledge of machining vacuum chambers.
03.

Ability to process parts due to our experience, high technological ability, and know-how of metals and bonding.
04.

A variety of machining equipment, such as 5-axis machining centers and vertical type multitasking machining centers enables us to cater for a wide selection of size, weight, and shape of parts.
Samples of machined products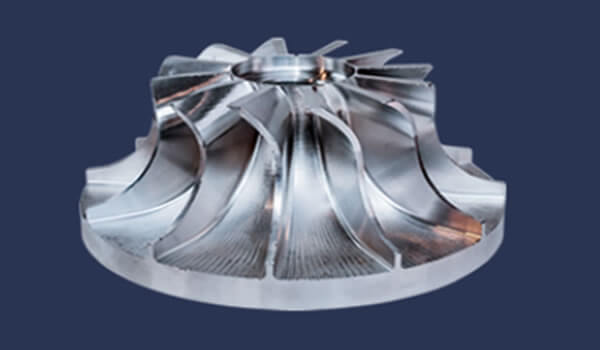 Impeller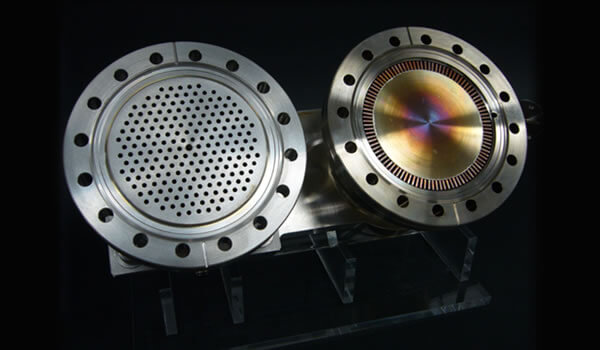 Stirling engine heat exchanger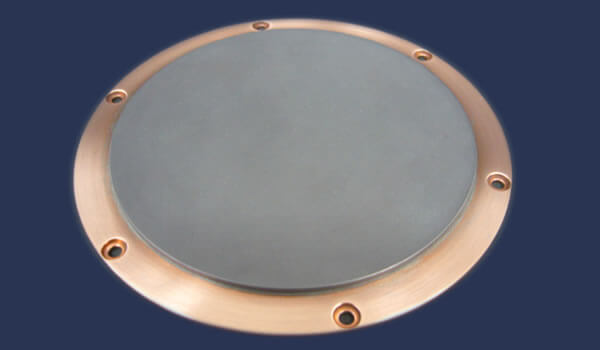 Sputtering target
Finding the metal solution with MTC's core technology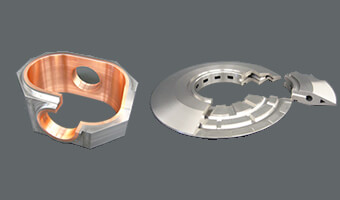 We continuously strive to seek and create new ideas and technology utilizing our core technology and the latest equipment.
Contact Us
Any request about products, and ask for quotation can be made here. Other questions and requests about the company can also be made here.
Document download
Company information
Technology information (Japanese)
Technology information (English)
HIP unit list
Hot press equipment list
Possible material combinations for brazing
MICROTRON Test Machine MIC1