Sustainability
Management Philosophy
Our company's guiding ethos since its founding, "Respecting and maintaining harmony" is based on our determination to embrace and harmonize with people and all things related to us. We shall continue to contribute to society while reducing our environmental impact by continuously working on technological innovation based on our management philosophy of "respecting the environment and respecting people."
Commitment to SDGs
We have been working toward a better future by providing solutions to our customers in a variety of industrial fields that support society, including energy, semiconductors, aerospace, and medicine. We will continue to contribute to the achievement of Sustainable Development Goals (SDGs) by leveraging our technological capabilities in environmental conservation and human resource development.
Environment
We will expand our R&D budget and promote technological development to advance the semiconductor, medical, and energy fields as they are indispensable to people's lives. In our production activities, we are always aware that we are working with limited resources, and we will continue our efforts to reduce the environmental burden on both the global and work environments.
Society
We will protect employment by providing a safe and clean working environment through various employment and welfare programs that are easy to work within, and promote the development of an environment that takes advantage of diversity and allows all employees to demonstrate their abilities.
Governance
We will strengthen our system for thorough training of managers in compliance, management skills, promote Business Continuity Plan (BCP) activities, and ensure compliance with quality standards, laws and regulations related to production activities and corrective measures.
To contribute to the formation of a sustainable, recycling-oriented society
The Cornerstones of MTC's Contributions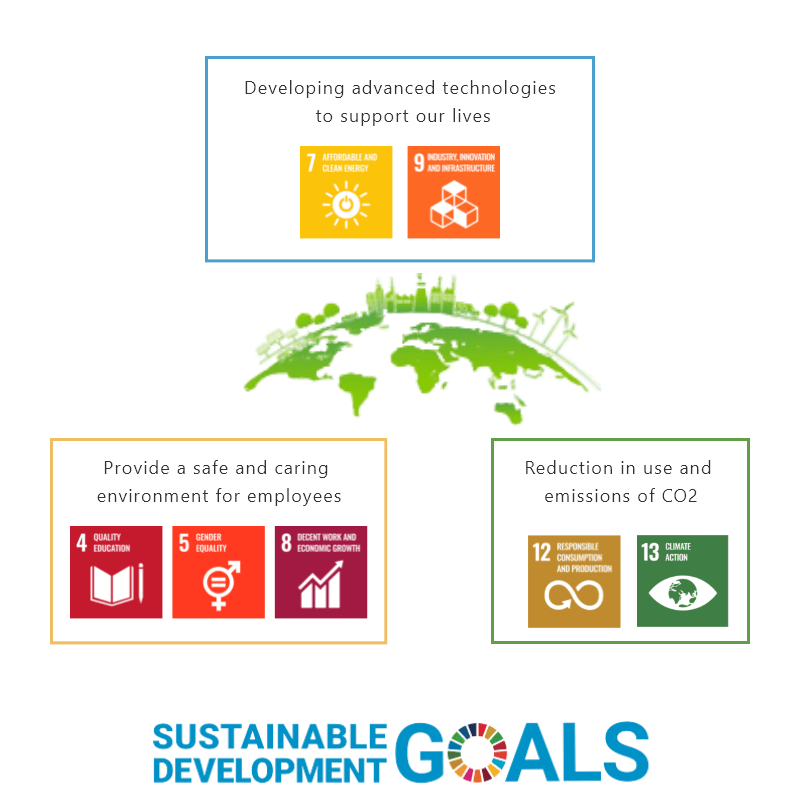 Developing advanced technologies to support our lives
Expand our R&D budget and promote technological development of the semiconductor, medical, and energy fields, which are indispensable for people's daily lives.
Action
Target
New Technology Development
Development of new materials for the future
Development of cutting-edge technology through integration of metalworking technologies
Development of cutting-edge equipment using accelerators
Materials research and development through METI's Strategic Fundamental Upgrading Support Program, etc..
We will develop efficient and sustainable metalworking technologies by leveraging our advanced technological capabilities in heat treatment, bonding, forming, powder sintering, and AM.

Focus Area
Semiconductor
Medical care
Non-fossil energy
Hydrogen Energy
Semiconductor materials, semiconductor production equipment.
Medical equipment, RI production equipment.
Nuclear fusion, molten salt reactors, renewable energy.
Hydrogen gas turbines, hydrogen vehicles.
Provide a safe and caring environment for employees
Support each employee's commitment to developing his or her skills and abilities in a comfortable and diverse workplace.
Action
Target
Improve employee satisfaction
Conduct employee satisfaction surveys and establish a PDCA cycle.

Improve Work Environment
Institutionalization of Work-From-Home.
Establishment of a safe, secure, and more comfortable plant environment.
Improve leave system
Increase in the percentage of employees taking paternity leave.
Introduction of paid menstrual leave.
Health Promotion
Introduction of a health application.
Improvement of the human medical checkup subsidy system.
Capacity building
Strengthening support for self-development.
Enhancement of welfare programs
Expansion of accommodation (leisure-related) facilities that offer discounts to employees.
Expansion of company housing program.
Facilitate child rearing
Formulation and promotion of action plans based on the Law for the Promotion of Women's Activities
Formulation and promotion of action plans based on the Law for Measures to Support the Development of the Next Generation
Reduction in use and emissions of CO
Reduce CO2 emissions and waste during production activities and make effective use of limited resources.
Action
Target
Utilization of renewable energy
Solar panel installation.

Reduction of CO2 emissions during transportation
Conversion of company vehicles to eco-cars. (HV, EV, PHV, FCV)
Reduction of CO2 emissions during production activities
Paperless office procedures.
Introduction of LED lighting.
Plant operation based on ISO 14001
Power Saving.
Review of hot water supply facilities.
Waste reduction.