Additive Manufacturing
What is additive manufacturing?
Additive manufacturing refers to a process that can create metal parts by melting and solidifying metal powder layer by layer from a 3D design using an Electron Beam or a Fiber Laser Beam. This technology enables us to form complicated structures or shapes which traditional methods are unable to make. Additive manufacturing or 3D printing is being applied to a variety of fields such as aerospace, automotive, and medical with enormous benefits. MTC currently has both EBM and DMLS type machines which enables us to select the appropriate machine best suited to the desired final shape, the final usage of the product, or specific to a customer's request.

MTC's Strengths
01.

The only company in Japan that can.
We at MTC have the ability to cover all stages of the additive manufacturing process: From design, build process, heat treatment, machining, to final quality assurance.
Currently, there are ever increasing numbers of additive manufacturing companies in Japan and whilst many of them can complete the building process, the finishing processes and post-heat treatments are often performed by a different supplier after delivery. In such cases, giving feedback on quality control of each process or issues concerning each process is difficult. As a consequence, providing a high quality product is essentially problematic without a close connection at every stage. MTC, on the other hand can provide a high quality product to meet customers' request as we are involved in covering the whole process; pre-verification, build, heat treatment after build, post-inspection, finishing process and post-inspection quality assurance.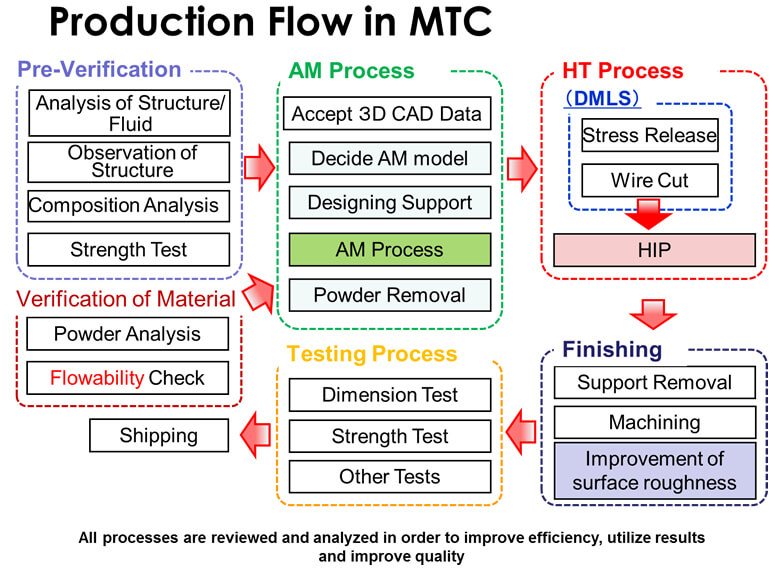 02.

Proposing shapes to take advantage of additive manufacturing
There is a common belief that it is easy to taking advantage of additive manufacturing and the ability to manufacture new and complex shapes. This is actually very difficult to undertake without understanding the characteristics of the material being used with a particular additive manufacturing machine. Here at Metal Technology Co. Ltd. we offer an integrated knowledge to enhance the design and manufacturing.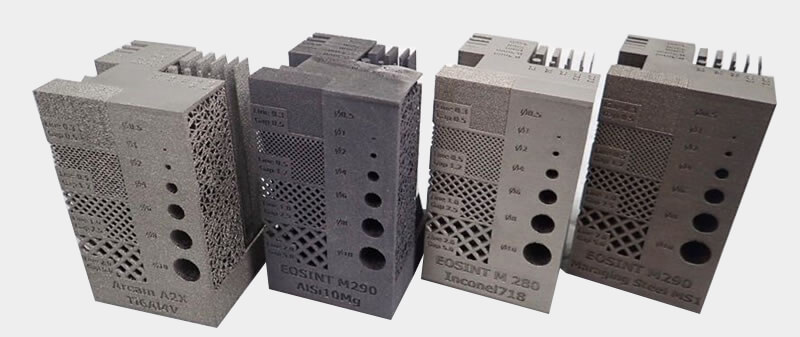 Additive manufacturing potential is the ability to manufacture lighter parts by the embedding of lattice structures that consume less material while still distributing the necessary strength. Less weight and less material consumption can lead to enormous energy and cost savings.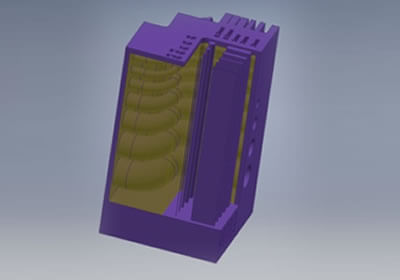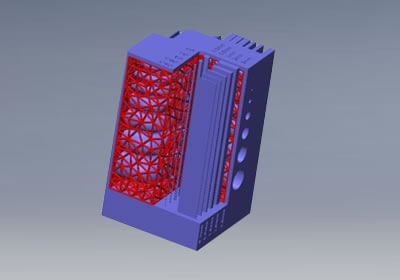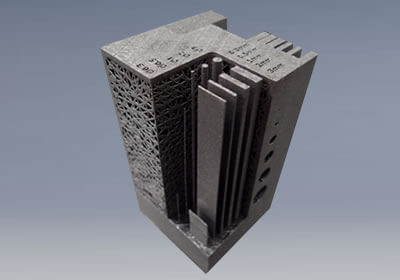 A key part of the AM process is the topology optimization technique that identifies and removes areas of a design space not contributing to the parts essential aspects. This method determines an optimum material distribution in a defined design area while accounting for existing constraints to the design space.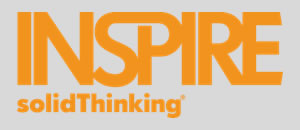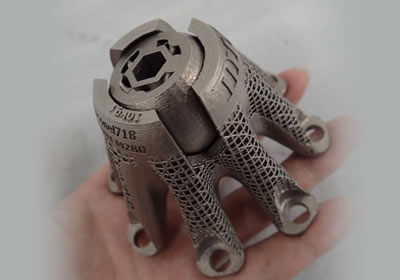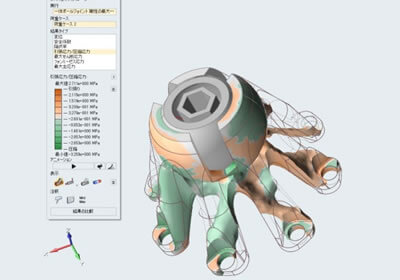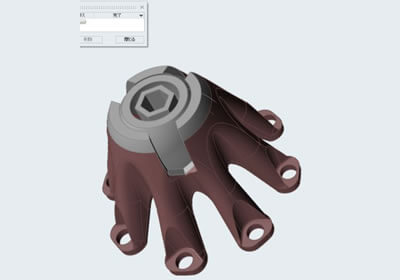 03.

Post-additive manufacturing: HIP to increase strength
One of the issues of additive manufacturing is the possibility of internal defects. Metal Technology Co. Ltd. uses its core technology of HIP treatment as a post-additive manufacturing treatment. We do this in order to remove internal defects resulting in prevention of fatigue failure.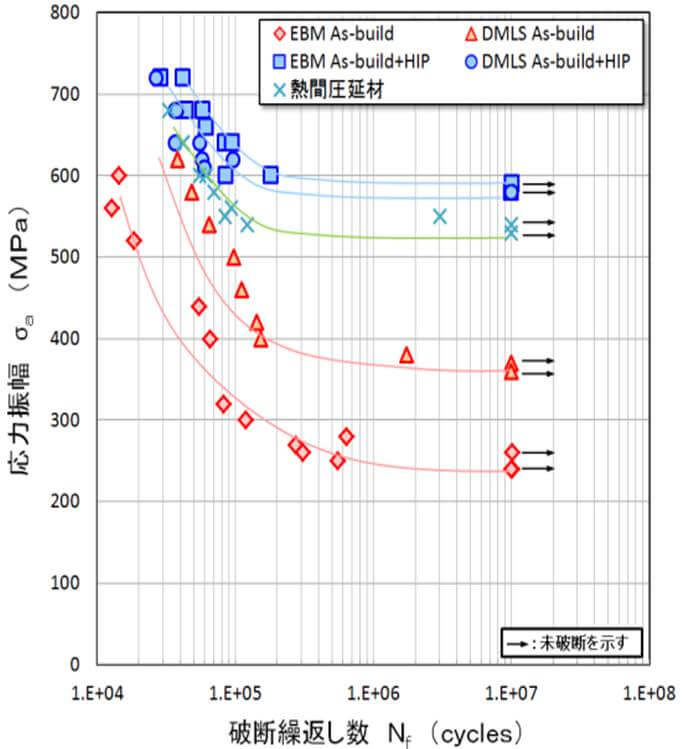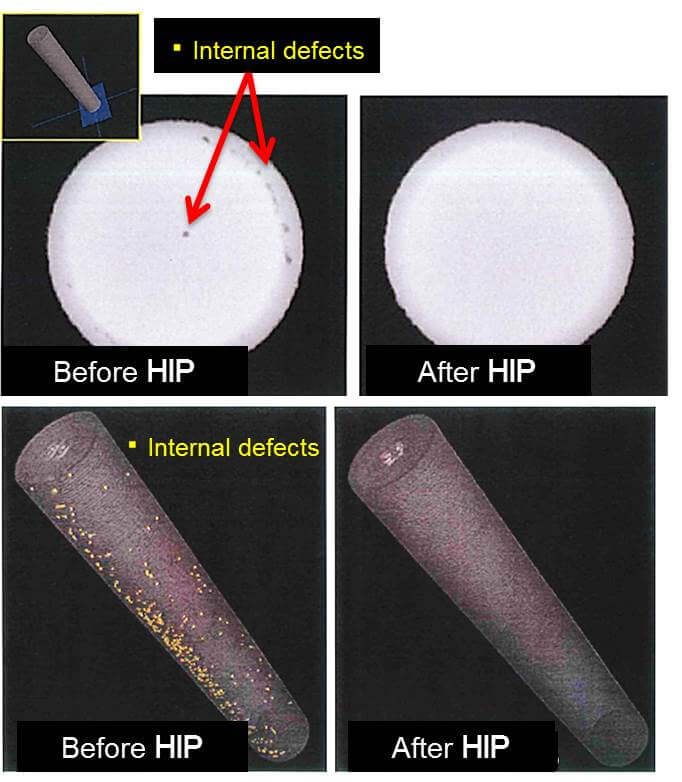 04.

Additive manufacturing approved and added to "JIS Q 9100"
Metal Technology Co. Ltd.'s improvement of the process quality through review and evaluation at each process stage and the stringent management of powder recycling has resulted in a fully achieved quality control system to manage materials and processes with clear traceability. As a result, additive manufacturing was approved and added to the quality control certification "JIS Q 9100" in October 2016.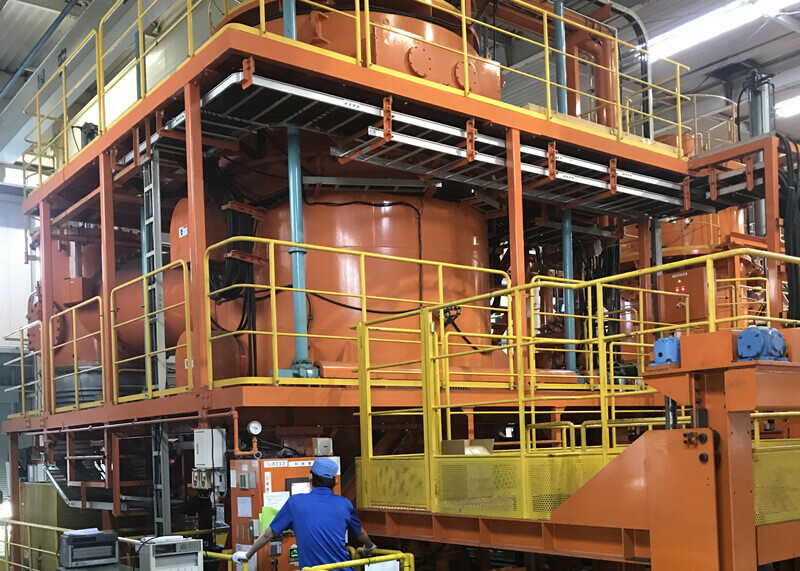 Samples of Additive Manufacturing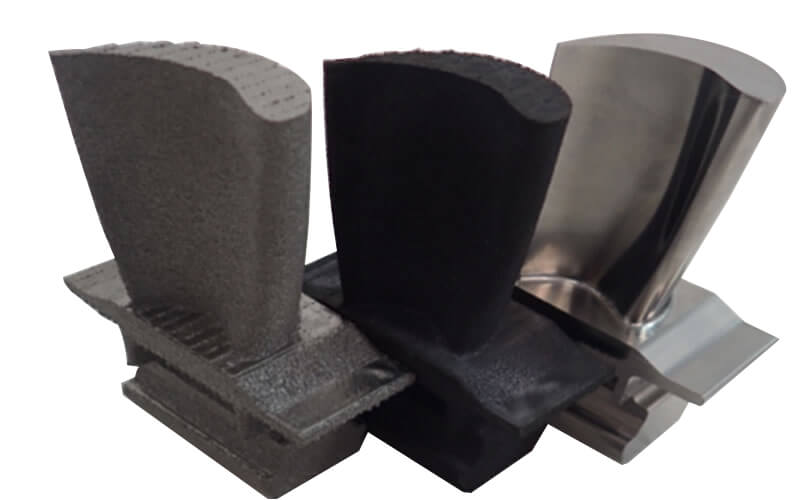 Aviation
Turbine blades additively manufactured from Titanium aluminide, TiAl. An example of the three stages of as built, HIPed, and machined finish.
※Manufactured as a part of Cross-ministerial strategic innovation promotion program (SIP)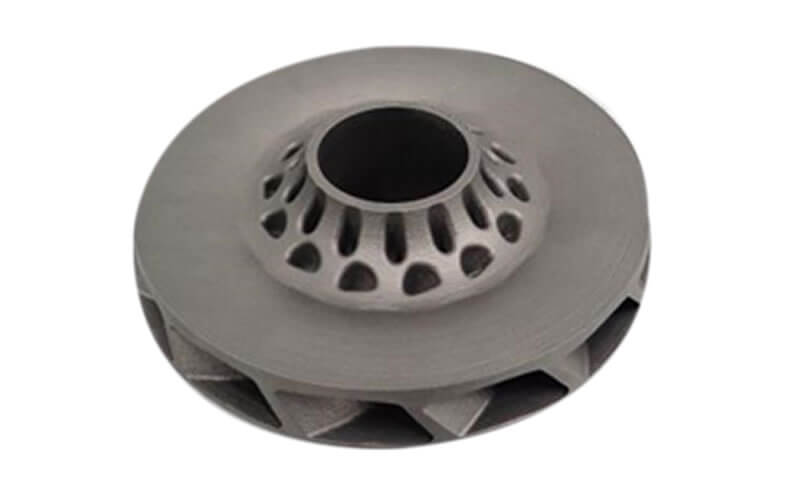 Power Generation
3D printing & HIP - Able to achieve high value-added complex shapes without casting molds for the build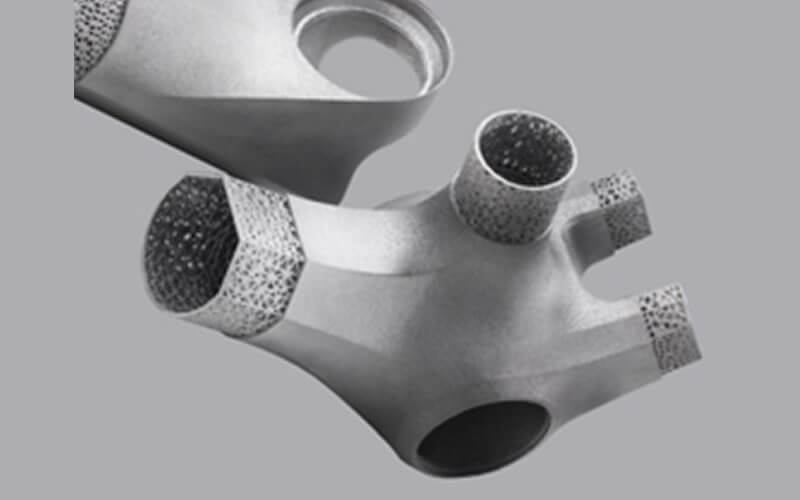 Bicycle
Bicycle parts additively manufactured to achieve a reduction of weight using a 3D lattice structure with a 0.5mm thickness plate and high elasticity.
※Photo credit : Triple Bottom Line & CEREVO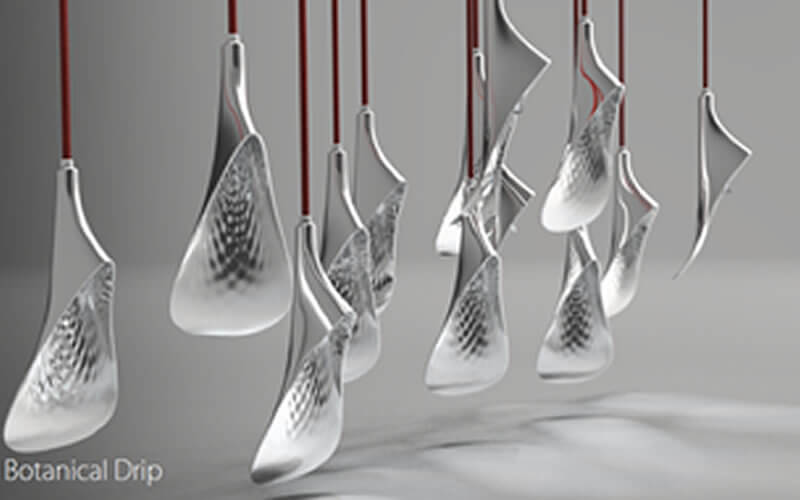 Interior design
An example of additively manufactured interior design for lights, expressing organic shapes through additive manufacturing. The design was chosen for additive manufacturing due to being difficult to create using existing or traditional methods.
※Photo credit: Triple Bottom Line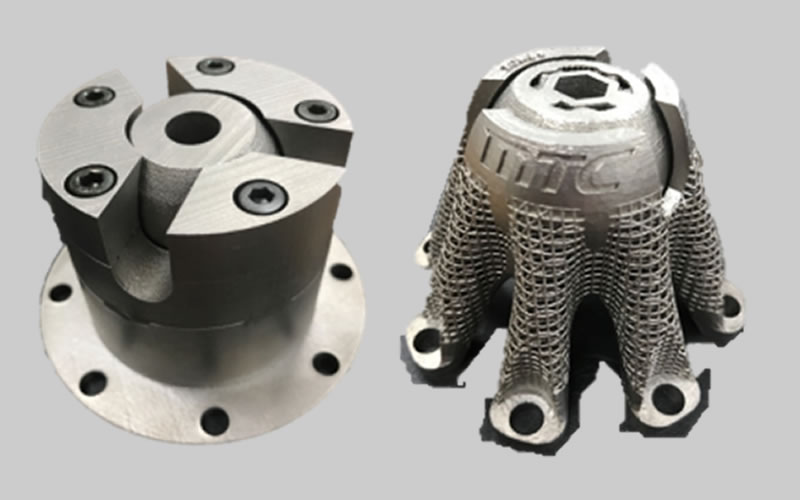 R&D
An example of Metal Technology Co. Ltd.'s ability to utilize both topology optimization structure design and effective lattice structures to create parts that are cost effective, better suited to the customer's needs, reduced weight, and technically superior.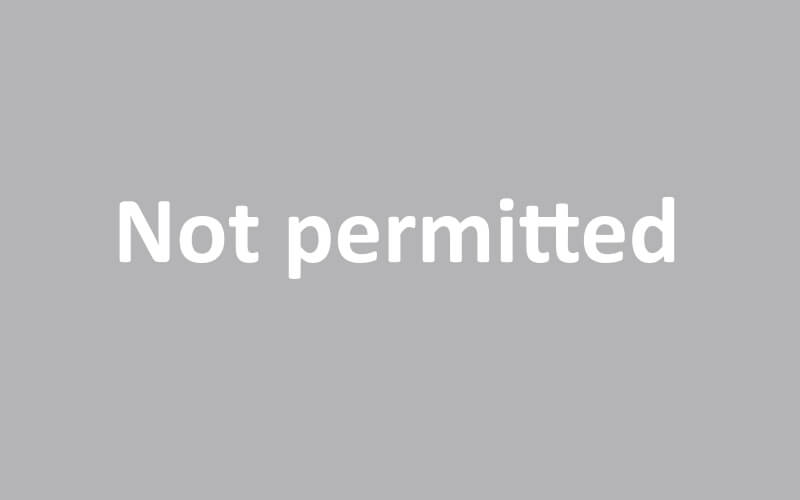 Medical Equipment
An additive manufactured medical piece for the orthopedic field which can be custom-made through a 3D printed design and process.
Equipment
Direct Metal Laser Sintering
Additive Manufacturing of products from CAD data by Direct Metal Laser Sintering (DMLS).
Since it dissolves in an inert gas atmosphere, it is less affected by oxidation.
Since heat is applied only to the necessary area, it is easy to remove unmelted powder around components, and even top add a complex cooling structure within the design.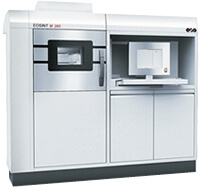 EOSINT M280(manufactured by EOS)

Applicable material: Ti6Al4V, Inconel718
Build area (mm): 250W×250L×325H
Layer thickness: 30μm, 60μm (Ti6Al4V), 40μm (Inconel718)
Surface roughness: Ra9 to Ra12
Laser Scan speed: 7m/s
Laser Power: 400W
ProX DMP 320 (Manufactured by 3D SYSTEMS)

Applicable material:Ti6Al4V、Inconel718
Build area(mm):275W×275L×420H
Layer thickness: 30μm、60μm、90μm
Surface roughness: Ra9 to Ra12
Laser Power: 500W
Oxygen concentration:No more than 25 ppm
Electron beam melting system
Arcam EBM systems utilize a high power electron beam that generates the energy for high melting capacity and High productivity.
Since the build takes place in a vacuum and at high temperature, the components built are free of residual stress.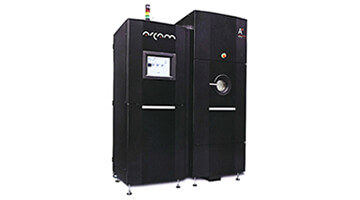 Arcam A2X(Medium-sized machine that also supports refractory metal shaping)(Manufactured by Arcam)

Applicable material:Ti6Al4V、TiAl
Build area(mm):200W×200L×350H(Ti6Al4V)、150W×150L×300H(TiAl)
Layer thickness:50μm(Ti6Al4V)、90μm(TiAl)
Surface roughness: Ra25 to Ra35(Ti6Al4V)
EB Scan speed: 8000m/s
EB Power: Max3500W(continuous variable)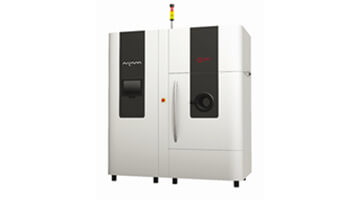 Arcam Q20(Ti6Al4V specialized machine specially designed for mass production and large builds)(Manufactured by Arcam)

Applicable material:Ti6Al4V
Build area(mm):Φ350×380H
Layer thickness:90μm
Surface roughness: Ra25 to Ra35
EB Scan speed: 8000m/s
EB Power: Max 3000W(continuously variable)
HIP process has made diffusion bonding possible.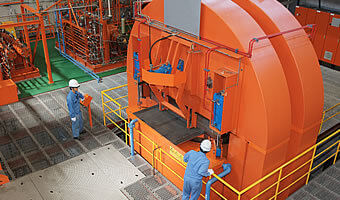 Hot Isostatic Pressing (HIP) is the technology of simultaneously pressurizing and processing materials utilizing the synergy of argon gas under high pressure and at high temperatures.
Contact Us
Any request about products, and ask for quotation can be made here. Other questions and requests about the company can also be made here.
Document download
Company information
Technology information (Japanese)
Technology information (English)
HIP unit list
Hot press equipment list
Possible material combinations for brazing
MICROTRON Test Machine MIC1