Resin Additive Manufacturing
What is Resin Additive Manufacturing?
Metal Technology's HP Jet Fusion 580 3D printer is used to make parts by laying down powder, applying heat, melting and solidifying. We can easily produce parts with complex shapes in full color. We can design and manufacture parts to meet your specific needs. Please feel free to contact us.
Related videos(Ricoh's YouTube channel. Japanese only)
Metal Technology's Strengths
01. 

We have a wealth of experience in designing metal additive manufacturing parts, which allows us to provide valuable design proposals.
02. 

We can design and produce jigs that are easier to use as we are able to carry out machining and assembly processes in-house.
03. 

We can produce complex shapes, quickly, in large quantities, and in full color.
For those who want to manufacture complex shaped products (jigs, etc.) with short delivery time.
For those who want to visualize the processing of the part by color-coding the product and jig.
For those who want to check conformance and fit with the sample before manufacturing the actual product.
For those who want to make an original model.
Examples of use
Normally, when you want to cut a wire EDM product at an angle, you need to make a jig. However, if you use our 3D printer, you can make it easily and quickly. If you have a jig that does not fit, please let us know!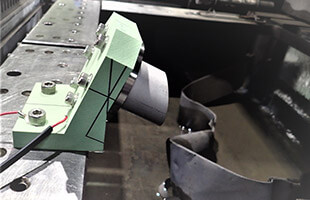 This picture shows a 3D printed finished model of a component called a mercury target manufactured by Metal Technology. This is actually a model of the mercury target used as a USB memory stick. How about making a model like this and giving it to someone as a memento?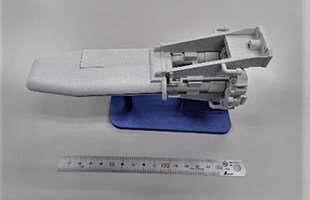 As long as you have a 3D model, you can create your own ideal figures. This statue of Nike can be made in one night.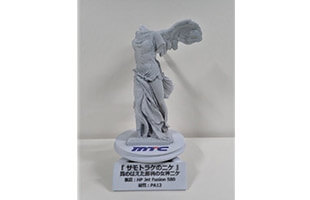 Equipment

HP Jet Fusion 580 Color 3D Printer

Features:Compact design that completes the entire process in one device
Printing, powder recovery and reclamation are integrated in one device.
Method:Powder bed method (Multi Jet Fusion)
Modeling area: 332 x 190 x 248 (mm)
Appearance
Frequently Asked Questions
Q. 

How long is the delivery time?
It takes about one week after receiving the 3D model.
Q. 

What is the roughness level?
The roughness of Resin Additive Manufacturing is about Ra10-20.
Additive Manufacturing from design to inspection at MTC.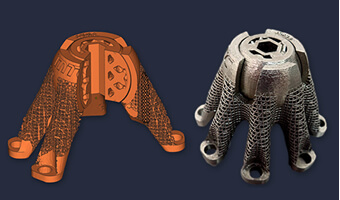 MTC has the ability to cover all stages of the additive manufacturing process: from design, build process, heat treatment, and machining, to the final quality assurance.
Contact Us
Any request about products, and ask for quotation can be made here. Other questions and requests about the company can also be made here.
Document download
Company information
Technology information (Japanese)
Technology information (English)
HIP unit list
Hot press equipment list
Possible material combinations for brazing
MICROTRON Test Machine MIC1