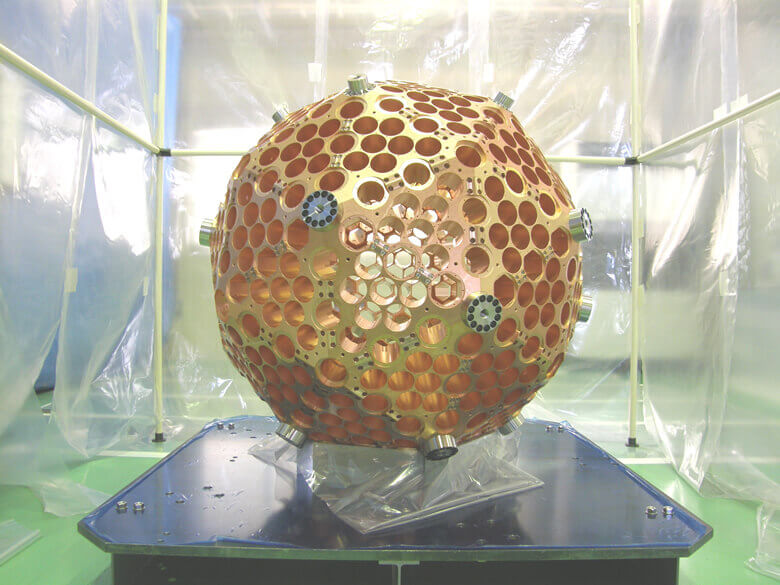 製品概要
「XMASS」とは、宇宙に存在する未知の物質であるダークマター(暗黒物質)を検出するための実験装置です。諸外国でもダークマターの研究は進められていますが、決められた方法はなく、それぞれ国や研究機関が独自の実験装置を用いて行っています。日本では、東京大学によるプロジェクトが進められており、「XMASS」はその研究機関の実験装置です。 MTCでは東京大学の先生にご指導いただきながら、液体キセノンと高性能の光電子増倍管を用いた「XMASS」の心臓部を設計製作しました。
Product information
Apart from the visible matter we know, the universe is made up of dark matter: invisible, unknown matter, the existence of which could not be demonstrated yet. All over the world countries and research institutions are conducting studies to detect dark matter with different methods and devices. In Japan, the University of Tokyo is leading the XMASS project. The XMASS detector is a device for conducting experiments to detect dark matter using liquid Xenon and photomultiplier tubes. Under the guidance of researchers from the University of Tokyo, MTC contributed to the project designing and manufacturing the core part of the XMASS detector.
製作技術
「XMASS」の設計製作においても、構造強度評価を含む設計から、高精度な機械加工技術、装置組立技術など、当社の様々なノウハウや技術が活かされました。
Product technology
From design to manufacturing, MTC was in charge of the construction of the core part of the XMASS detector making use of our technical knowledge, experience in design, understanding of structural strength evaluation, high precision machining, and device assembly.