HIP
HIP unit list
横にスクロールしてご覧いただけます。
#1
#2
#3
#4
#5 (Mega)
#6
Plant
Shiga
Shiga
Gunma
Himeji
Gunma
Shiga
Max pressure (MPa)
176
118
196
147
147
196
Temperature range(°C)
Mo: 500~1390
Mo: 500~1390
Gr: 500~2000
Mo: 500~1350
Mo: 500~1250
Mo: 500~1350
Fe・Al・Cr: 500~1000
Mo: 500~1400
Working zone (mm)
φ460×1200H
φ650×1600H
Gr: φ230×400H
φ650×1600H
URC: φ1100×1150
φ650×2500H
Mo: φ260×550H
φ1100×2100H
Max loading weight
including workload
basket (kg)
1000
2000
Gr: 150
2000
URC: 2500
4000
Mo: 250
5000
Gas
Ar
Ar
Ar・N2(Gr heater)
Ar
Ar
Ar
横にスクロールしてご覧いただけます。
#7
#8
#9
#10
#11
#12
Plant
Gunma
Himeji
Ibaraki
Shiga
Ibaraki
Kanagawa
Max pressure (MPa)
147
147
180
147
147
196
Temperature range(°C)
Mo: 500~1400
Mo: 500~1350
Gr: 1000~1850
Mo: 500~1250
Mo: 500~1300
Gr: 500~2000
Mo: 500~1300
Fe・Al・Cr: 400~550
Working zone (mm)
φ460×1200H
φ800×3000H
Gr: φ480×1000H
φ800×3000H
φ800×3700H
φ200×300H
Mo: φ650×2500H
Max loading weight
including workload
basket (kg)
800
5000
Gr: 2000
5000
5000
68
Mo: 4000
Gas
Ar
Ar
Ar
Ar
Ar
Ar
横にスクロールしてご覧いただけます。
#13
#14
#16 (Giga)
#18
#19
#20
Plant
Ibaraki
Ibaraki
Himeji
Ibaraki
Himeji
Ibaraki
Max pressure (MPa)
196
176
118
160
147
180
Temperature range(°C)
Gr: 1000~1980
Gr: 1000~1850
A:Mo: 500~1350
B:Mo: 500~1200
C:Mo: 500~1150
Mo:500~1400
Mo: 500~1350
Gr: 1000~1850
Mo: 500~1350
Mo: 500~1300
Working zone (mm)
Gr: φ230×400H
Gr: φ650×2000H
A:φ2050×4200H
B:φ2050×4050H
C:φ2180×3670H
φ800×2500H
φ800×3000H
Gr: φ480×1000H
Mo: φ260×550H
Mo: φ800×2200H
Mo: φ650×2500H
Max loading weight
including workload
basket (kg)
Gr: 150
4000
A:25000
B:28000
C:25000
4000
5000
Gr: 2000
Mo: 250
Mo: 4000
Gas
Ar
Ar
Ar
Ar
Ar
Ar
横にスクロールしてご覧いただけます。
#15
#17
#21
Plant
China (Suzhou)
China (Suzhou)
Sweden
Max pressure (MPa)
181
147
100
Temperature range(°C)
Mo:500~1400
Mo:500~1400
Mo:~1150
Japan
18 units
Working zone (mm)
A: φ820×2000
φ800x3000H
φ700x1900H
Overseas
3 units
URC: φ820×1900
MTC total
21units
Max loading weight
including workload
basket (kg)
5000
5000
2000
Gas
Ar
Ar
Ar
Note:
1. Gr: Graphite heater, Mo: Molybdenum heater, Fe・Al・Cr: Kanthal heater
2. URC is used for rapid cooling.
3. A: Ceramic base furnace, B: Stainless steel base furnace with fan, C: Stainless steel base furnace with fan (by bottom heater only)
Additive Manufacturing from design to inspection at MTC.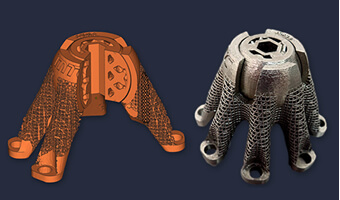 MTC has the ability to cover all stages of the additive manufacturing process: from design, build process, heat treatment, and machining, to the final quality assurance.
Contact Us
Any request about products, and ask for quotation can be made here. Other questions and requests about the company can also be made here.
Document download
Company information
Technology information (Japanese)
Technology information (English)
HIP unit list
Hot press equipment list
Possible material combinations for brazing
MICROTRON Test Machine MIC1